SEPARATISM IN CABINDA

To the north of Angola proper is the enclave of Cabinda, which is rich in oil and therefore has considerable significance both to the Angolan government and the western oil companies who exploit it.

In 1963 a movement called the Front for the Liberation of the Enclave of Cabinda (FLEC) was formed to press for independence for this territory.

FLEC was largely inert during the war against the Portuguese and languished afterwards, although UNITA staged some attacks against oil installations.

FLEC was reformed in 1984 and began operations against the MPLA regime.

It is currently (January 1996) in negotiation with the government. FLEC has had its own factional problems and there is (or was) also an organisation calling itself 'UNALEC' (presumably, the National Union for the Liberation of the Enclave in Cabinda). Whether this was a split from FLEC, a UNITA front, or merely another name for FLEC, is not clear.

Another organization is the Cabinda Democratic Front.


THE FLEC FLAG

A flag for FLEC has been reported by our old friend Flags of Aspirant Peoples. It is shown as being a light blue over yellow over red tricolour. In the centre is a brown circle, containing a green triangle on which there is a white star.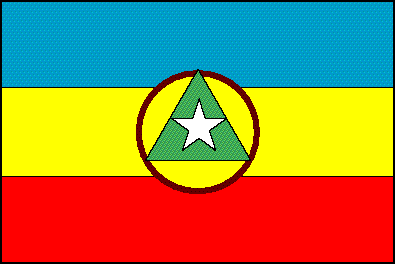 We have little information regarding the accuracy or symbolism of this flag, although we have seen the triangle/circle device, in black and white, on FLEC literature, so we believe this part at least to be accurate.



Short questions and answers about Cabinda - History of Cabinda - Map and aerial views - Photos

A spicy testimony - The Cabinda War : a scenario

Recent news : · Angolan Defense Ministry Reports Congolese Air, Ground Attacks on Cabinda

· Separatists launch offensive · Troops clash with Congolese in Cabinda

· Ship Carrying Weapons Arraigned In Cabinda

The current weather in Cabinda

Sign our guest book

---
©1998, The Cabinda Network
URL : http://members.xoom.com/cabinda