AERIAL VIEW OF CABINDA
Cabinda is part of the People's Republic of Angola, separated from it by a small area around the river Congo which secures Democratic Republic of Congo's access to the ocean.
An important part of the income in this part of Angola comes from the exploitation of forests. Agricultural products are only used for national food supply. Oil prospecting is underway on the continental shelf . The main resource is off-shore petroleum (see photo below).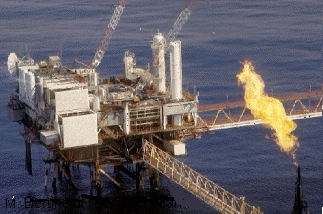 The following image provides an overview of the coastal zone of Cabinda. Different grey levels indicate a certain variability of the land cover. A coherent grey surface (as, for example, in Equatorial Guinea) cannot be detected. For detailed interpretation of the different land use patterns, a multitemporal approach would be very valuable as assessment via a mono-temporal approach without any terrain knowledge is very difficult.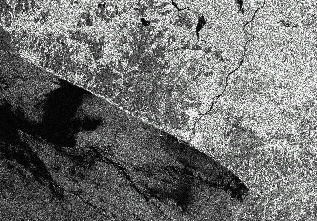 Coastal zone of Cabinda (Angola) seen from ERS-SAR (Image acquired on August 14, 1994).
One can however speculate that the dark areas are likely to correspond to wooded areas (also due to the fact that this area encloses some mountain ridges visible in the lower left side of the image). The light grey area is possibly covered by savanna.

The last photo shows the town of Cabinda (white in the image) which is located in front of a hilly terrain cut into smaller areas by valleys (visible in light grey).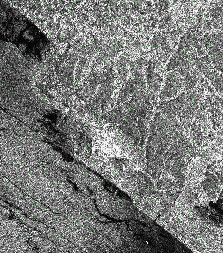 See also photos of the town of Cabinda
Short questions and answers about Cabinda - History of Cabinda - Map
Description of the FLEC flag - A spicy testimony - The Cabinda War : a scenario
Recent news : · Angolan Defense Ministry Reports Congolese Air, Ground Attacks on Cabinda
· Separatists launch offensive · Troops clash with Congolese in Cabinda
· Ship Carrying Weapons Arraigned In Cabinda
The current weather in Cabinda
Sign our guest book

---
©1998, The Cabinda Network
URL : http://members.xoom.com/cabinda